Recipe
After Eight Mint Ganache & Mint Choc Chip Cookie Dough
Recipe and words by

Jamie Clinton

Photography by

Vik Chandla
It's the chocolate that brought together Naomi Campbell, Stephen Fry, Einstein and Liberace around the dinner table in one of its most iconic TV adverts and also, on a personal level, a compulsory part of any Christmas feast. Growing up, I spent many Christmas day evenings wading through the empty wrappers that had been returned to the dark green box, hoping that just one might still contain the wafer thin chocolate covered mint.
Including an After Eight-based dessert in the Shears Yard Christmas menu was a bit of a no brainer. Even more so than Roses and Quality Street, After Eight is the archetypal festive confectionary, bringing out the Hyacinth Bucket in all of us. Who cares if you have never or probably will never host a dinner party, After Eights played up to the aspirations of a class-obsessed Britain. Even my working class neighbour, Elsie, succumbed to one of Argos' silver plated After Eight box holders, proudly displayed all year round on the doily covered mahogany side board.
The nostalgia of this recipe is balanced out by the inclusion of cookie dough. An American import popularised in the UK by Ben & Jerry's, it is in sharp contrast to quintessential Britishness of the After Eight brand. However, in terms of flavour the two elements complement each other beautifully with the freshness of the mint providing a perfect foil to the sweetness of the cookie dough.
Ingredients
For the ganache
400g Dark chocolate
300ml Double cream
100g unsalted butter
2 egg yolks
100g after dinner mint chocolates
For the cookie dough
300g plain flour
100g of unsalted butter
200g caster sugar
50g golden syrup
100g dark choc chips
1tsp peppermint essence
Method
For the ganache
Melt the chocolate and butter in a heat proof bowl over a pan of simmering water. When the chocolate & butter are melted whisk in the egg yolks and remove from the heat.
Warm the cream up to roughly the same temperature as the chocolate mixture and then whisk the two together until completely combined. Roughly chop or bash up the after dinner mints and fold into the chocolate mixture. Line a loaf tin or similar with cling film and pour in the ganache, leaving it in the fridge overnight to set. In the morning, you should be able to lift out the ganache and slice it. Ideally, it should have the consistency of fudge.
For the Cookie Dough
Simply mix all the ingredients together to form a smooth dough. Once a dough is formed, roll into mouth sized balls and refrigerate until needed. Serve 2 or 3 with a slice of the ganache and maybe a scoop of good quality ice cream. Although Ben & Jerry's Cookie Dough might be overkill…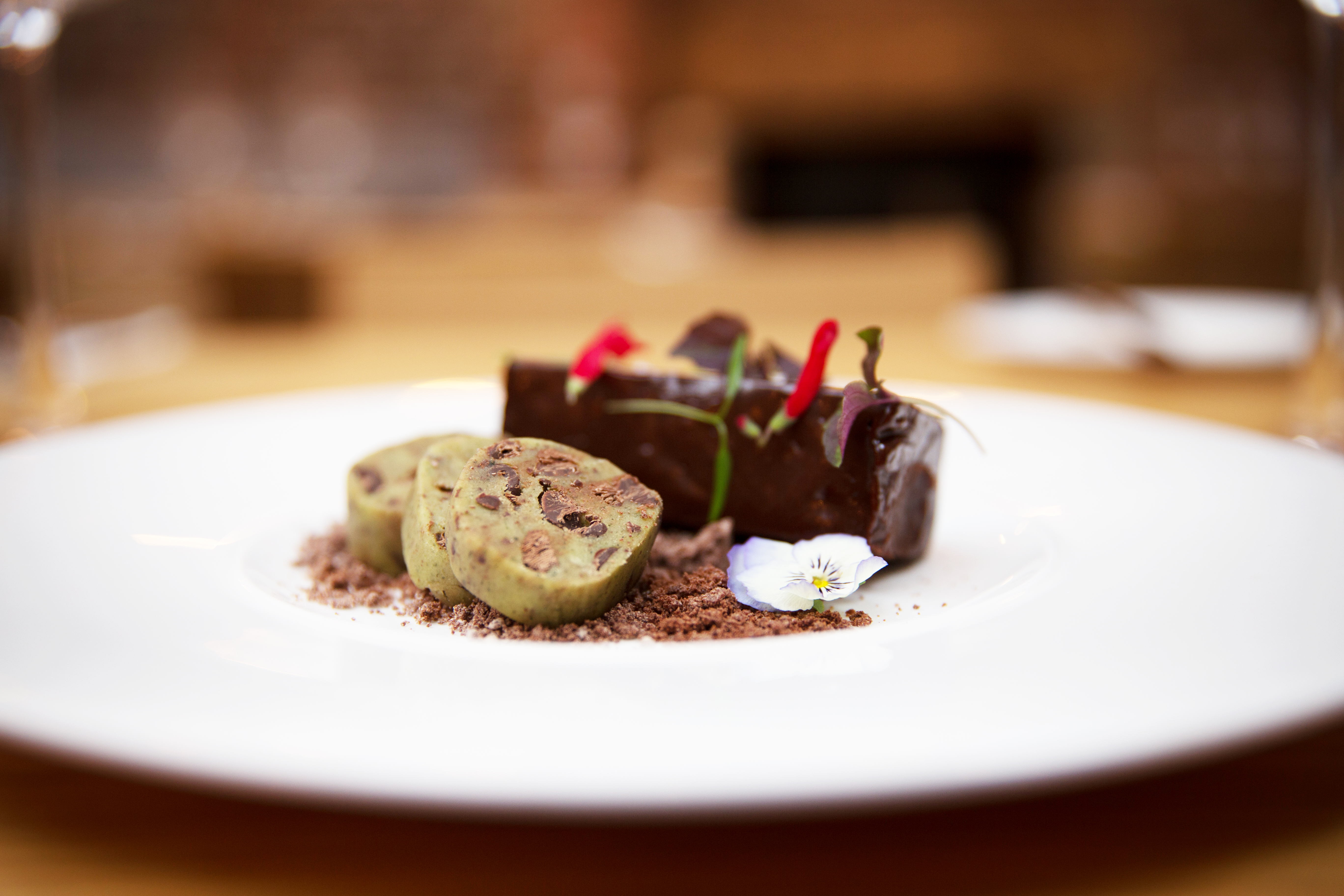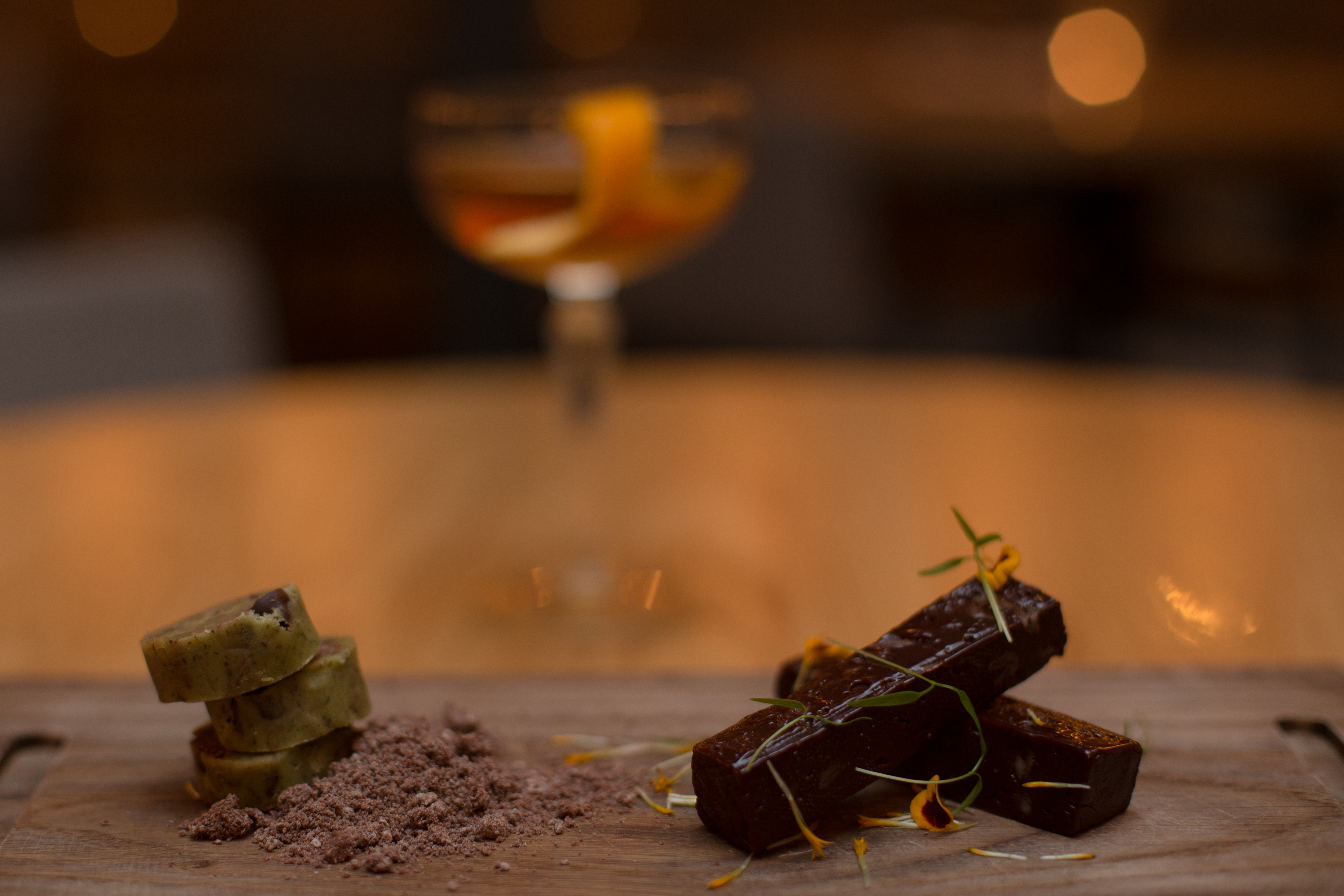 After Eight Mint Ganache & Mint Choc Chip Cookie Dough was created by Food&_ community members: