Article
Good News
Words by

Katrine Ekman

Illustration by

Nick Ellwood
Back in 1979, in a northern suburb of Copenhagen, I would go to the grocery store with my mother. It was a small shop, but we were able to buy almost everything we needed there. We knew the owner, his family and that the fruit was often over-ripe. He knew our names, where we lived and what kind of cereal my sister liked. We did not imagine that shopping for food would ever be any different from this: not something to give much thought to and just part of everyday life.
A couple of years later the grocery store was gone. Low-budget supermarkets popped up everywhere, and the days of the local grocery store seemed to be something of the past. Food became influenced by other countries, for which I am immensely grateful. During the 1980's, my parents would impress their friends with French bistro-style dinners and watercress salad. But shopping for it was impersonal and still not something to look forward to or enjoy.
But now it is 2013. I am living in San Francisco for a month, calling a rented flat in Western Addition home. The owner emails me a week before my arrival. She has good news. There's a Bi-Rite opening up around the corner, merely hours before my plane is due to arrive in San Francisco Airport.
Bi-Rite? That does not sound like something exciting. But everything in this store is a feast for your senses, which you cannot know from the name. Colourful fruit and vegetables neatly stacked, meat, cheese, wine, groceries, an ice-cream counter with people standing in line all day – everything is wonderfully displayed and packaged so beautifully that you want to buy everything, even though you have absolutely no use for a grapefruit marmalade or caramels packed in a lovely, letterpress printed and red wax sealed box.
"So, what else is new?", you might ask. We have seen this before. Lots of food halls in department stores and delis are selling pleasantly packaged food at too high prices, meant to look good on your kitchen shelves or be given away as a gift for your mother. Well, I'll tell you. The staff and ambience. That's what's new. And the fact that you can actually buy everything here. You do not come here for a last-minute gift basket. You come here to shop for dinner.
Tired of reading the word "passionate" on just about every food package? Here, at Bi-Rite, the word makes sense. The people working here truly are proud of their work and their products, and make sure that you'll come back for more. After a few visits, they all remember me and my family, ask how we are and for how long we'll be in town. Passion is not just a word here, it is lived out. And I just want to move in. The vintage signs, magazine-worthy displays and rock n' roll soundtrack in this store are just right. You want to be seen in this place, to be someone shopping here whilst listening to Dylan, Stones and Morrissey. If this was not a grocery store, it would be your new favourite Friday night bar.
A few weeks prior to my adventures in San Francisco, I stayed for a month in New York City, in a rented flat (again). And again, the owner of my home for a month, a loft in Tribeca, was the bearer of good news: A shop called All Good Things has just opened a few doors down the street. He insists that this is the place to go for coffee, meat, bread – and for the shop itself. Since he owns an art gallery and his loft is decorated just as it should be, according to Tribeca loft living, I trust him – being a lover of words, I am not put off by the name of the shop, either. And, being a food shopper by heart, I am looking forward to seeing what he is so excited about.
All Good Things is a small heaven. A romantic store if there ever was one – you are met by a florist, then a Blue Bottle Coffee shop, then a bakery, a butcher's, cheese, fish, groceries, sweets and a restaurant in the back.
Like Bi-Rite, the products are all delicious. You feel like buying something. And again – you feel like staying here. Because, the people working here are happy that you came by. They want to tell you about their products. It is a true Instagram dream location. Everything looks just right, vintage, hand made, true. You come here to shop for yourself, not for gifts. People here are locals, not tourists. They buy their morning coffee, bread and cheese for lunch, a bunch of eucalyptus pods for a friend and steaks for dinner.
So, when did the place to buy foods became the place to be, I wonder? It feels like there's an overall tendency towards preferring the hand made, organic, true and authentic. But it is more than that. As Bi-Rite writes in their mission statement; they are "creating community through foods". Indeed, it seems as if people love hanging out here, meeting friends, chatting and making plans for a Sunday garden party. Just like morning runners met at the Blue Bottle counter in All Good Things before going to the office.
One of the last days on Divisadero in San Francisco, I am in line at the deli counter at Bi-Rite, buying kale salad, some cheese and a loaf of Josie Baker bread. A middle-aged man is literally dancing next to me. First, I think he is just enjoying the music, but then he becomes aware of my looking at him and says: "Do you live nearby? When I moved here 14 years ago, there was nothing here. But I knew that this neighborhood would be popular some day. And now, this store opened up, I knew I was right!".
I guess that more than being the place to shop for good food, the opening of a hip food store might also be the final quality stamp on a neighborhood. This may be of good use for real estate agents, but the really good news is for us. The good food is here, and it is fun to buy it, too.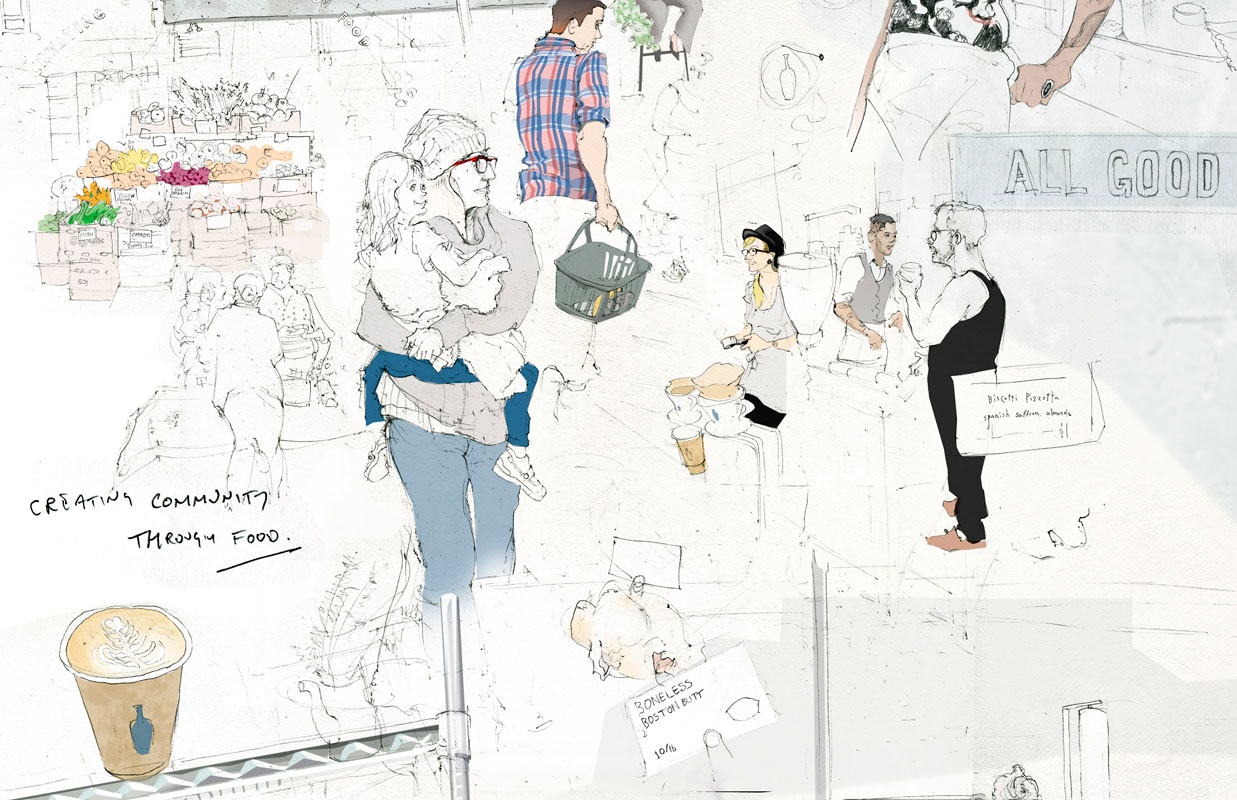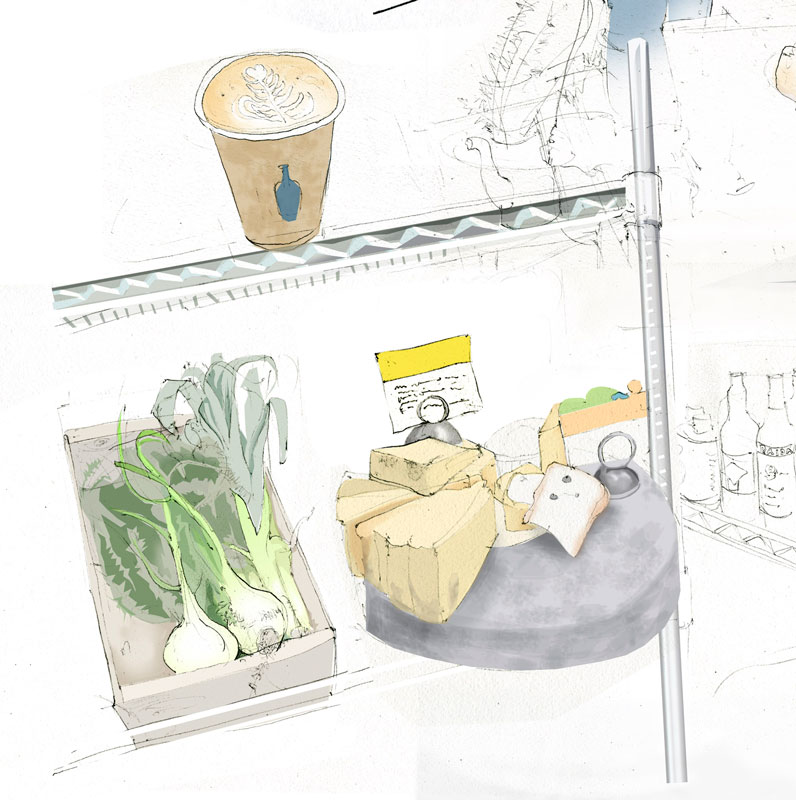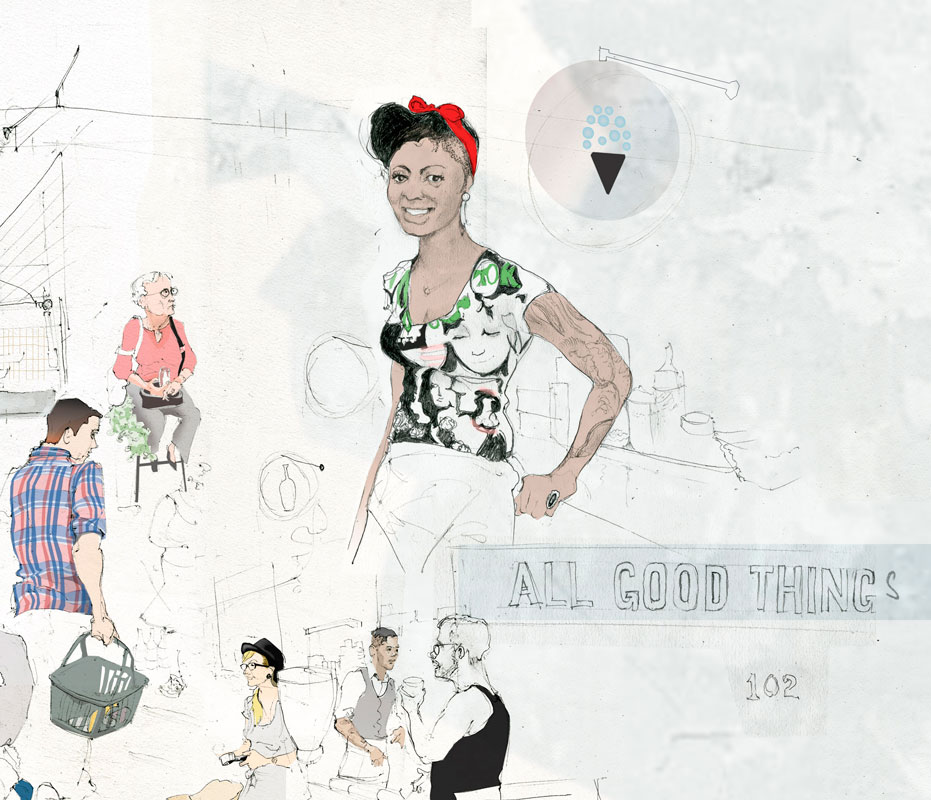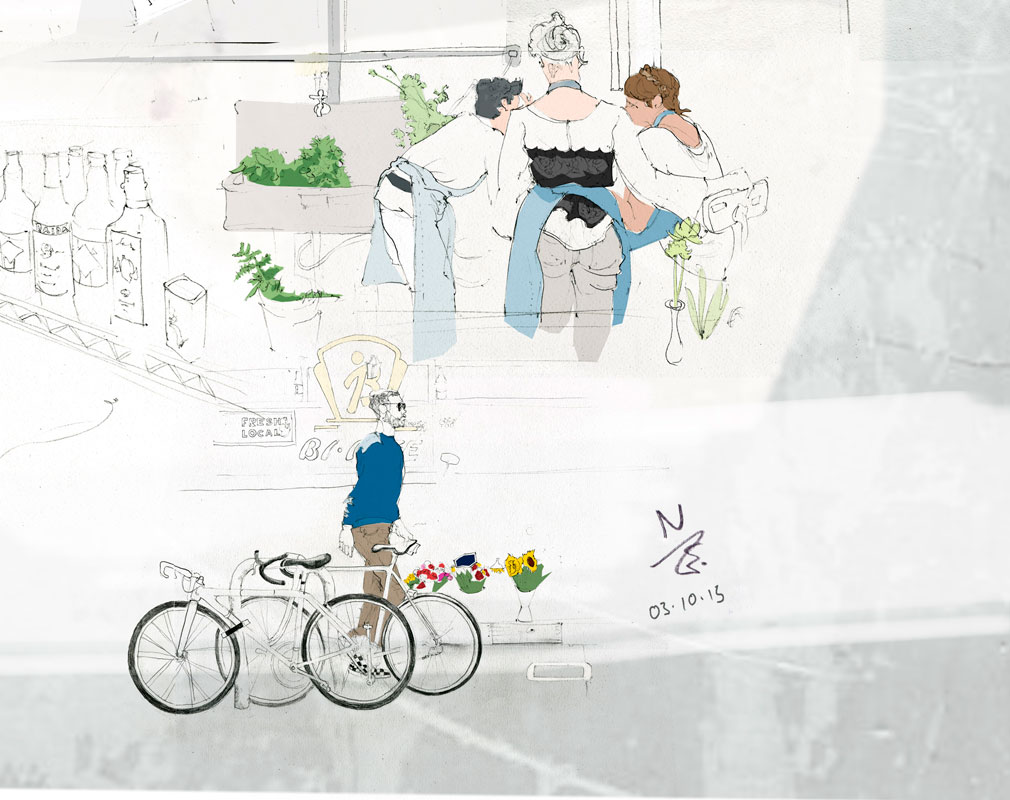 Good News was created by Food&_ community members: